Cam here, founder at Training Tilt.
If you've been here at TT for a while, you'll know we've come a long way since we launched in 2014.
Since then we've been building new unique features to give coaches what they need to coach their clients but also run their business within one platform.
We've also been working hard to bring our coaching and analysis tools up to scratch with the standards created by other platforms that came before us or alongside us.
Up till now, it's seemed reasonably obvious what we are missing and what we should build next, but as we become more mature it feels like the right time to restructure our planning and development roadmap and at the same time make it available for our coaches to contribute.
As of today, you can now suggest new ideas, vote on ideas suggested by us or by other coaches and get access to our roadmap of features both planned and currently under development.
I'm happy to invite you to our new Roadmap platform to help us continue to build Training Tilt.
Watch the video or continue reading for all the details.
The platform is currently private and for the moment just for our coaches to contribute.
You'll need to create an account to view and contribute. Follow the link below to get started.
https://build.trainingtilt.com/signup
There are three sections
Ideas are where you can submit your own ideas and vote on those submitted by us and by other coaches.
Roadmap shows the status of the submitted ideas in terms of what we are considering, what we have planned and what we are currently working on.
and Announcements is where we let you know what's changed in the platform
Once you've submitted an idea, we'll check it, potentially edit it a bit if necessary and if we think it's viable, make it available for other coaches to vote on. There are no hard and fast rules about how we will consider ideas. Some ideas we'll decide on straight away without needing any votes, others we'll consider based on votes and some we will archive if we feel they don't map to the overall direction we plan to take the platform.
Ideas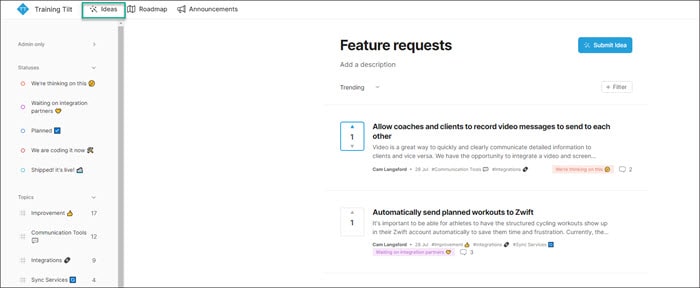 Roadmap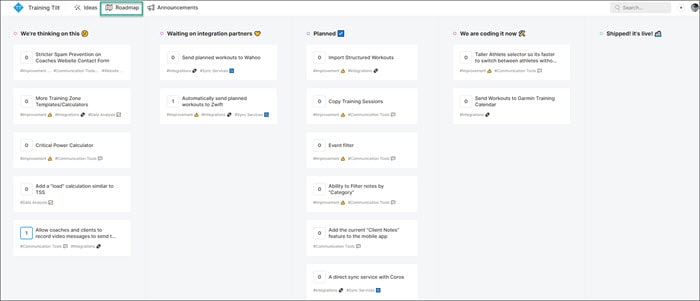 Announcements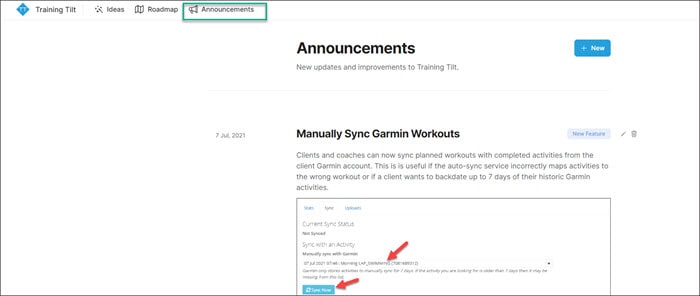 I am really looking forward to hearing from as many of you as possible.
You can start contributing here
Have a great week!
Cam
Take our Free "Authentic" Marketing Course for Coaches
Designed for endurance sport coaches. Marketing doesn't need to be pushy. The best marketing simply creates a win-win relationship between you and your customers. Take the simple 6 part course to learn more.