Don't Repeat Yourself (DRY)
While working with triathlon, running and endurance coaches, I have seen firsthand the effort and time coaches put into crafting workouts and training plans for their clients. However, I have noticed that many coaches still write workouts and training plans from scratch, even though 80-100% of every workout and training plan written is the same for athletes at a similar level.
The well-being and success of your clients is your top priority as a coach, but crafting custom workouts and plans every time is repetitive and time-consuming and in the end isn't of real benefit to the client.
That's why using templates for workouts and training plans is a smart and efficient way to deliver high-quality coaching to your clients. Although for one-on-one coaching it is important to create custom plans for each client, many athletes are more similar than they are different, making it possible to start with a template and then make adjustments as needed. By leveraging the power of templates, you can focus on what truly matters – the success of your clients and your business.
Contrary to what some coaches would have you believe using templates is not the same as creating "Cookie Cutter Plans" and creates better outcomes for clients and coaches.
Save Time for Higher Impact Coaching
Templates save coaches a significant amount of time by allowing them to quickly prescribe workouts and training plans to their clients without having to start from scratch every time. This extra time can then be used for higher impact activities that can lead to better results for clients. For example, coaches can spend more time communicating with their clients, providing individualized feedback and support, and developing creative and effective training strategies. This type of personalized attention is what sets successful coaches apart from the rest and can have a huge impact on the success of their clients. Additionally, coaches can also use this extra time to continue their own education, network with other professionals in their field, and stay up-to-date on the latest research and training trends. The use of templates allows coaches to maximize their time and energy, which leads to better results for their clients and improved professional satisfaction for themselves.
Improved Accuracy, Consistency and Quality
Using templates not only saves time for coaches but it also increases accuracy and consistency in the training plans delivered to clients. When coaches start with the same templates repeatedly, they can be sure that all necessary information is included and that the workouts are formatted consistently. This not only helps to ensure that clients receive complete and effective training plans but it also increases the professional image of the coach. Clients are more likely to trust a coach who delivers well-organized and consistent training plans, and they are more likely to follow through with the prescribed workouts when they understand the structure and purpose behind them. Templates also allow coaches to easily make changes to training plans and workouts as needed, ensuring that their clients are consistently making progress towards their goals.
Types of Templates
Centralized Workout Templates
Having centralized templates for individual workouts can be a huge time-saver. These templates can be stored in spreadsheets or in a dedicated coaching platform like Training Tilt, which has a workout library. Each workout template can include a title, detailed instructions, planned time or distance, and more detailed information about individual intervals if needed. This information can be easily reused, saving you time and effort each time you prescribe a workout to a client. Workout templates can also include links to other centralized, content like videos, articles, and downloadable files.
How the workout library works in Training Tilt
Training Tilt is a all in one coaching platform that has a workout library where you can import, create, store and access all of your template workouts. You can create your workouts inside the platform directly or you can import them using a csv file or a spreadsheet.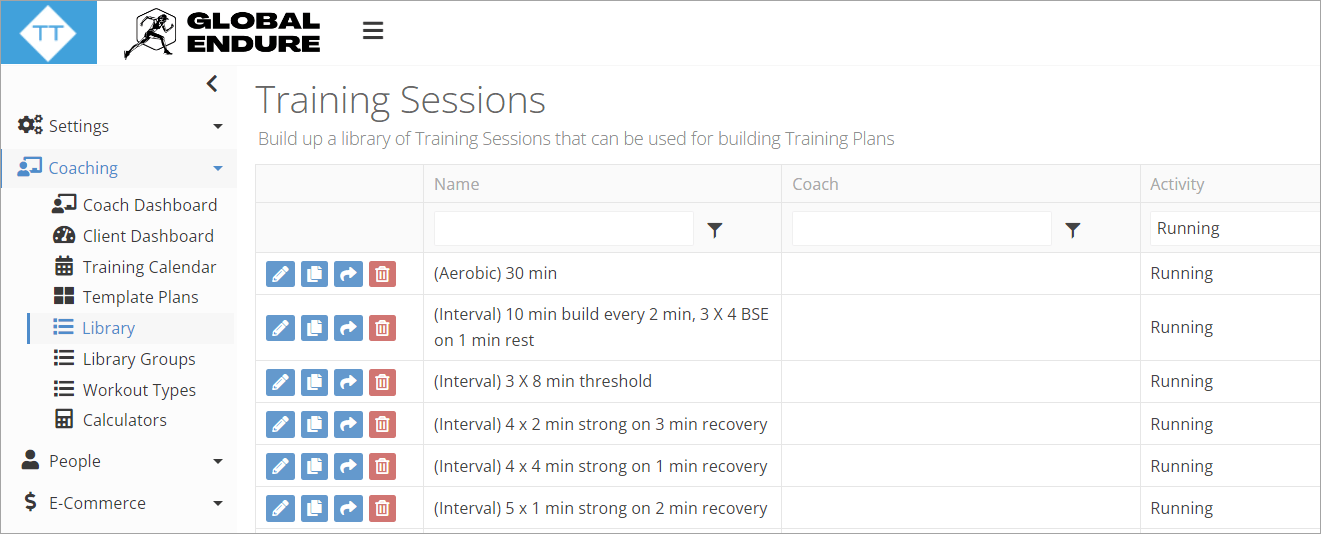 Basic fields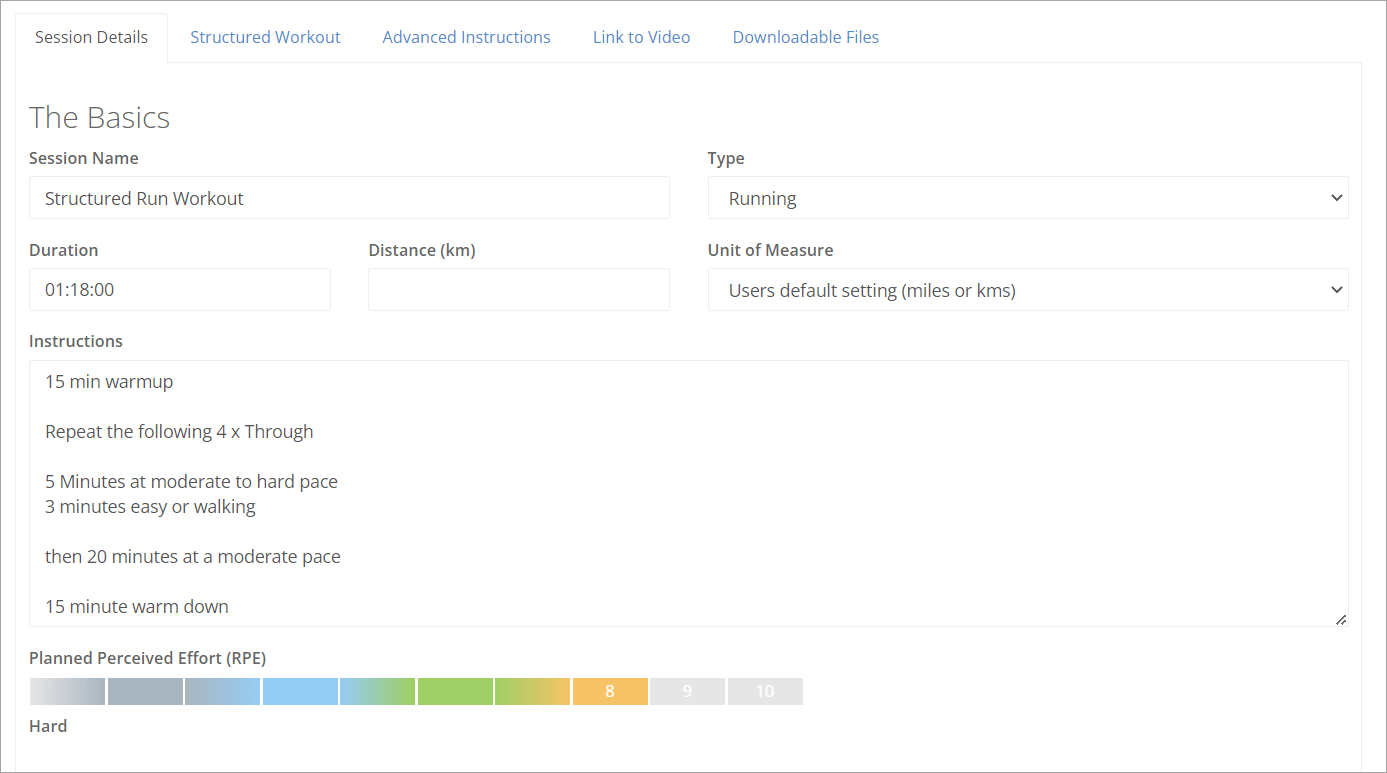 An example of a re-usable structured workout.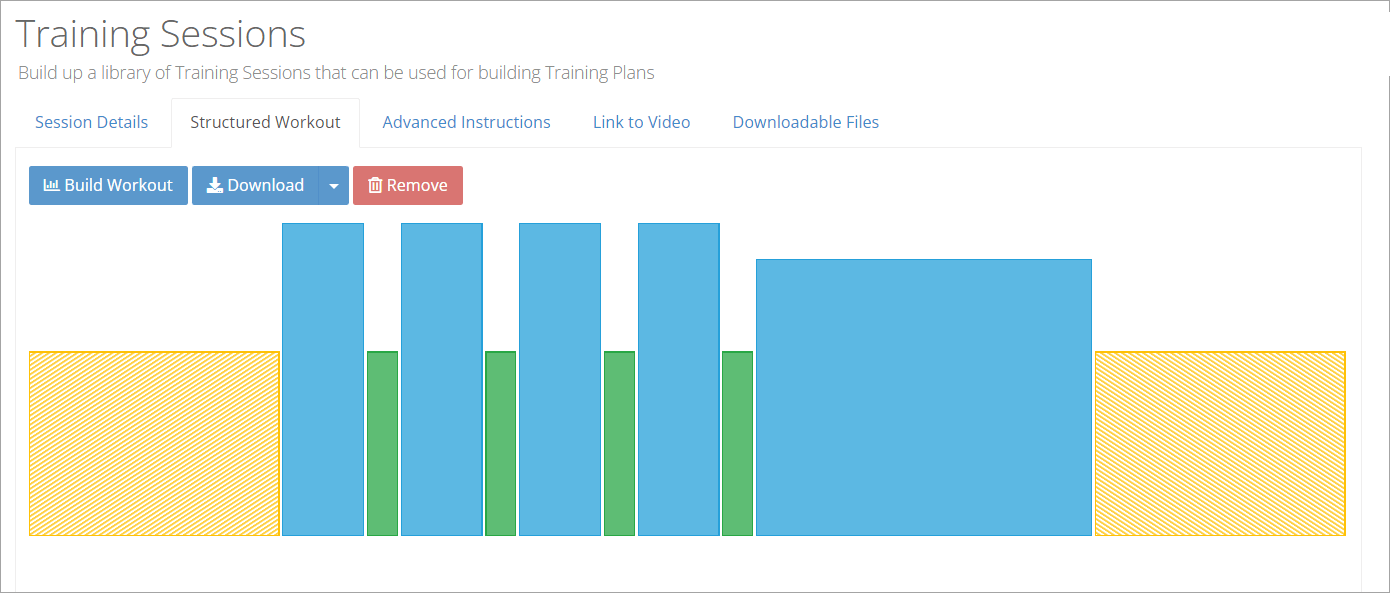 Once your template workouts are in the library you can drag and drop them into your training plans or directly on to client calendars.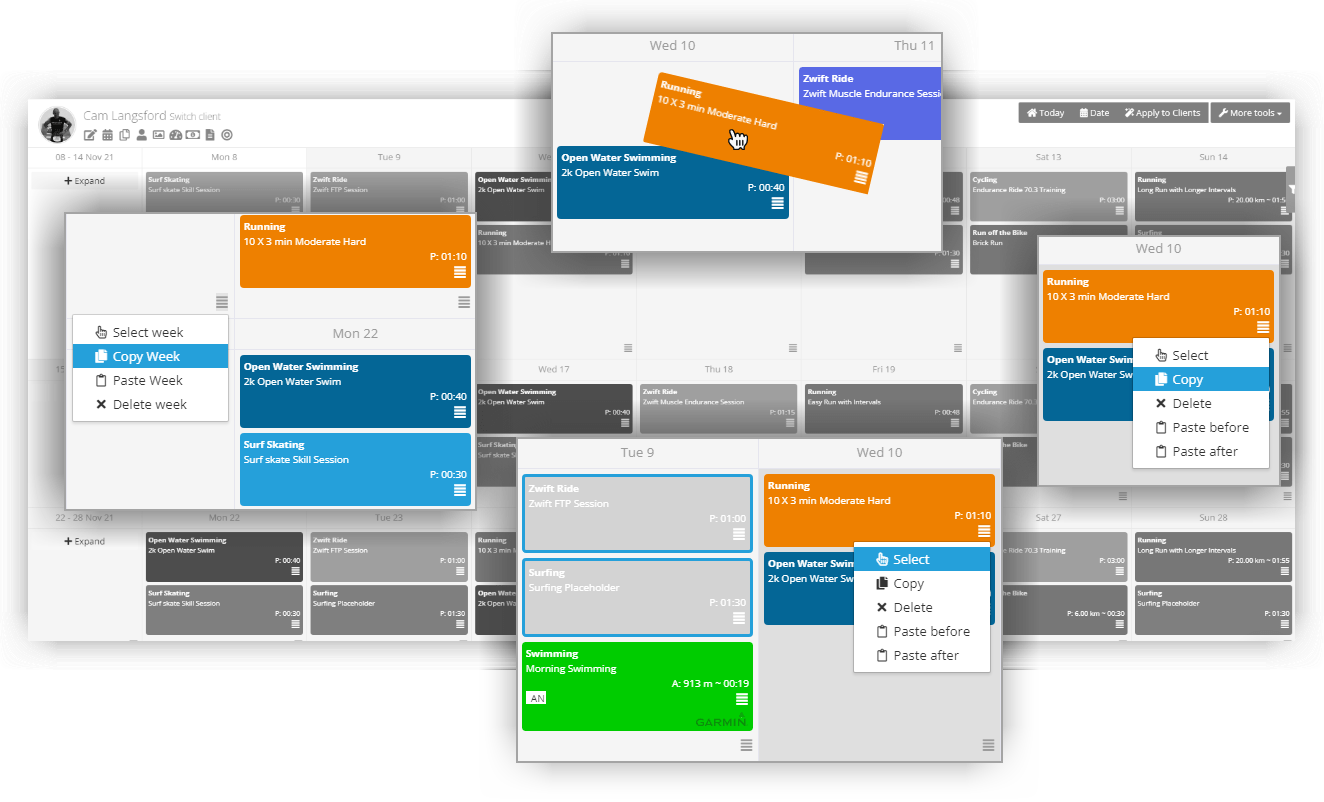 Training Plan Templates
Saving full training plan templates or individual blocks of training in a template will save you even more time. For example you don't always need to have an entire training plan as a template, you can create a block of run workouts and a block of strength training in two different templates and then mix and match these blocks for individual clients. This approach enables you to mix and match the intensity or level of different types of workouts for different types of athletes. For instance, an advanced runner may need the advanced running training block, but they may be new to strength training, so you can first apply the advanced running block and then overlay the introductory strength block. On the flip side, a client who is very experienced with strength training but new to running can have the beginner running block with the advanced strength training template applied.
How plan templates work in Training Tilt
Using your template workouts you can then create as many template plans as you need in your plan library, you can even generate a template plan directly from a clients calendar or by duplicating an existing template.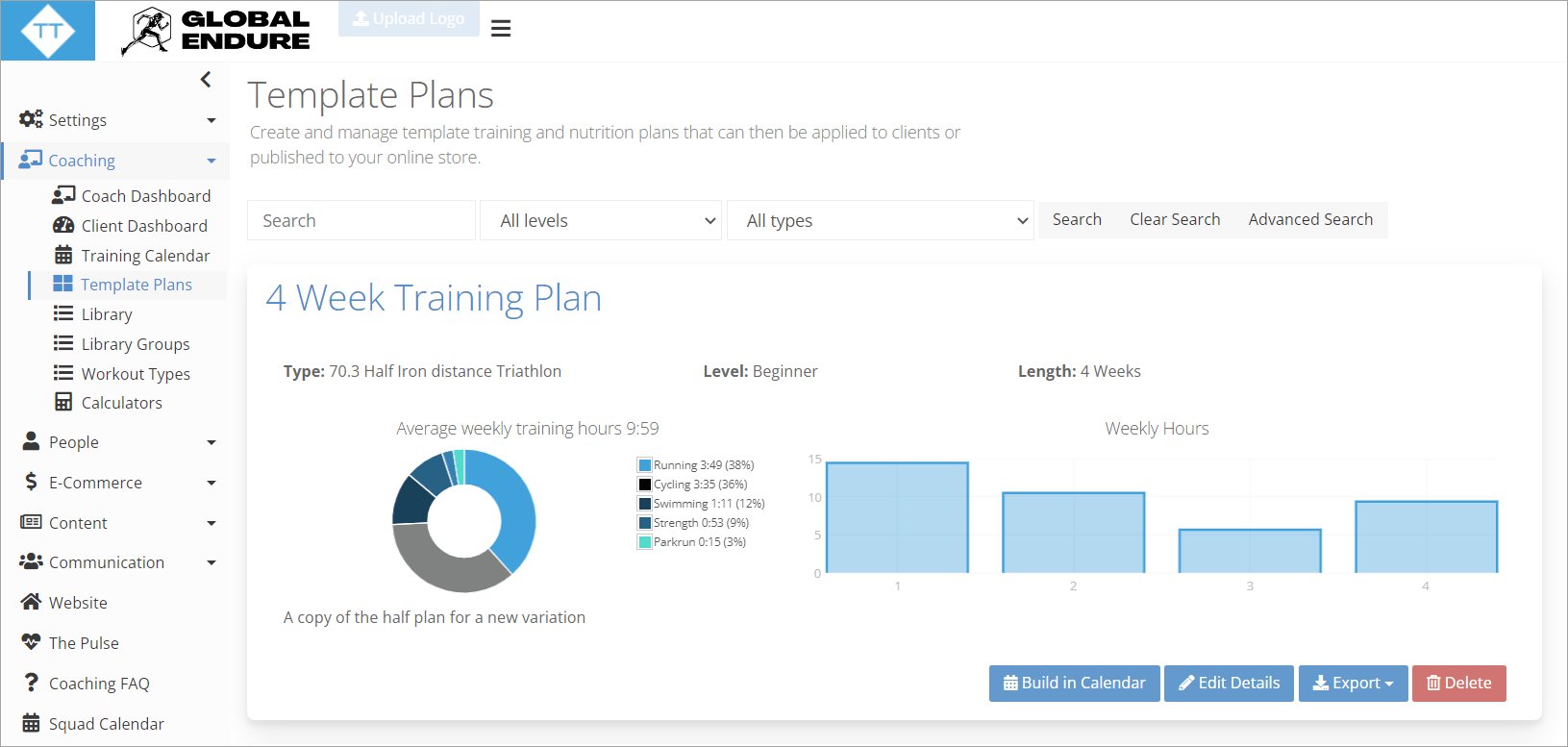 Once you have your plans built you can use them to apply to one or more client calendars then customize as needed.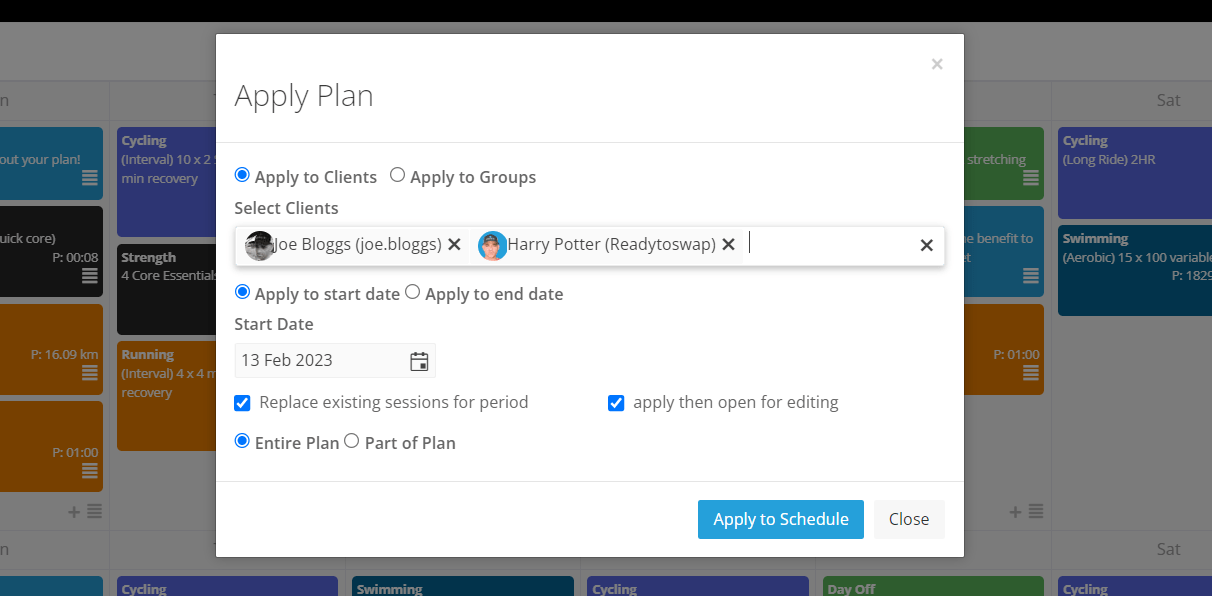 Conclusion
By using templates, you'll have more time to focus on the important aspects of coaching. You'll be able to spend less time creating plans and more time working with your athletes on technique, strategy, and motivation. Your clients will appreciate the personalized training plans you provide, and you'll appreciate the time-saving benefits of using templates.
Using templates is a win-win situation for both coaches and clients. Coaches can work more efficiently and focus on the important aspects of coaching, while clients receive highly personalized training plans that are customized to their needs. Don't repeat yourself, embrace templates and start saving time today!
Take our Free "Authentic" Marketing Course for Coaches
Designed for endurance sport coaches. Marketing doesn't need to be pushy. The best marketing simply creates a win-win relationship between you and your customers. Take the simple 6 part course to learn more.