Last week I covered the 4 stages of marketing for endurance coaches. One of those stages is nurturing your leads so they will become customers. That's the stage this blog fits in to.
As a triathlon, running, or endurance coach, you know that building relationships with your clients is essential to your success. One of the best (yes it's still one of the best) ways to do this is through email marketing.
However, many coaches have started email lists but rarely send emails, and when they do, it's a sales pitch. This neglects the opportunity to nurture their leads and build relationships with them. In this blog post, we'll discuss why triathlon, running, and endurance coaches should be sending more emails and some basic tips on how to do it effectively.
Let's get one thing out of the way first though.
DONT be scared of unsubscribes!
Why you Shouldn't Worry About Unsubscribes
If you have a list you will inevitably get unsubscribes. Problem is though, the less emails you send the more unsubscribes you will get when you actually send one. It's counter intuitive but 100% true.
If you aren't engaging regularly then your subscribers won't ever get the chance to know, like and trust you. In most cases they probably won't even remember who you are or why they subscribed in the first place. Immediate unsubscribe.
The more emails (good emails) you send the more good will you will build up with your audience. They key is to load up on the free valuable content, and only pitch a sale every now and then. If you do that you are far more likely to keep subscribers and nurture them to become actual paying customers.
You may have noticed over the last few months I've been far more consistent in sending what I hope is good content to help endurance coaches to create, manage or grow their businesses.
Not everyone likes my content though, and when I resurrected my regular emails I got an avalanche of unsubscribes. Most likely for all the reasons I mentioned above. They don't know, like or trust me, they don't like the content, the way I deliver it or they've just moved on from coaching. There are lots of good reasons for people unsubscribing, but very few reasons to stop sending emails.
As you can see from the chart of the unsubscribe rate over the last few months the more consistent I have become the less unsubscribes I've been getting. I'm hoping most of the people left in my list appreciate the content.
Note: Because you get unsubscribes you continuously need to be refreshing and growing your leads with stage one of marketing. Lead Generation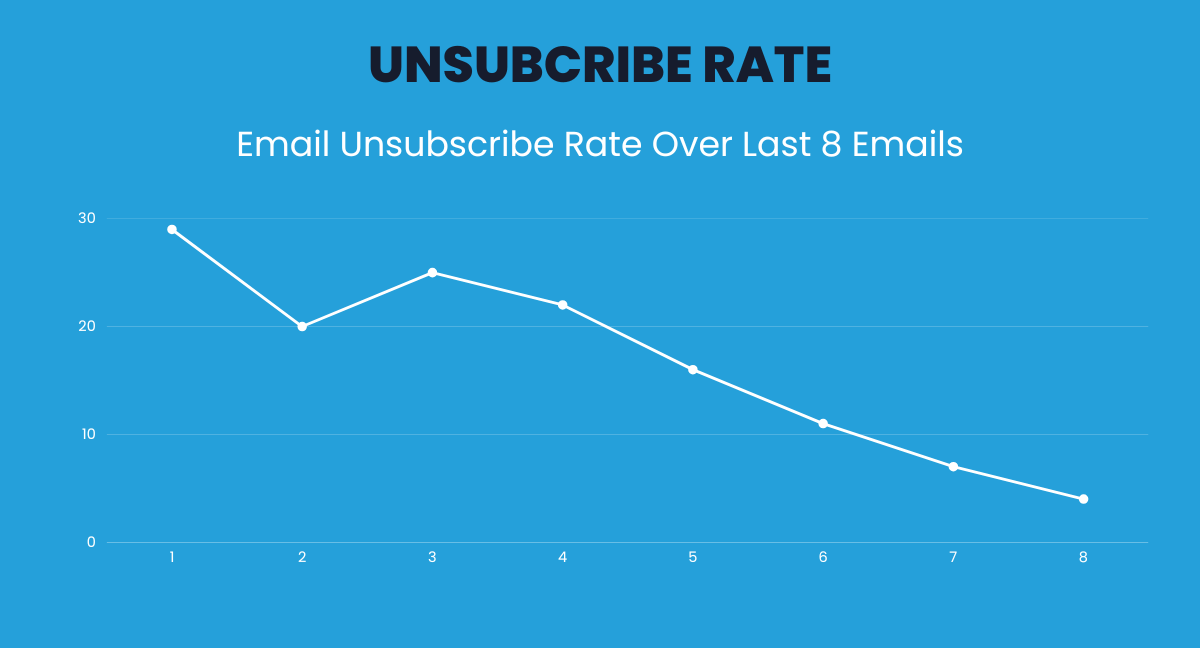 Ok, with that out of the way here are some more tips on sending emails.
The Benefits of Email Marketing for Coaches
Email marketing is a powerful yet simple tool for coaches in the triathlon, running, and endurance space. Here are a few of the key benefits:
Stay top of mind: Email marketing allows you to stay in front of your prospects and clients regularly. This means they're more likely to think of you when they reach the point they need coaching or advice.
Establish trust: When you consistently provide value to your email subscribers, you build trust with them. This trust can lead to more conversions and referrals. First they know you, then they like and trust you, now they buy from you.
Provide value: Email marketing is an excellent way to share valuable content with your subscribers, such as training tips, advice and stories.
What Happens When you Don't Email Your List
Unfortunately, many coaches neglect their email lists which results in:
Missed opportunities: When you neglect your email list, you miss out on the opportunity to connect with new people and build relationships with them.
Lower engagement rates: If you only send sporadic emails and sales pitches, your subscribers will quickly lose interest and stop engaging with you or just unsubscribe.
Weaker relationships: Without regular communication, your subscribers may forget about you or not view you as a valuable resource and will be much less likely to become customers.
The Importance of Nurturing Your Leads
To avoid these consequences, it's essential to focus on lead nurturing. This means providing value to your email subscribers consistently. Here are a few ways to do this:
Share valuable content: Share training tips, expert advice, success stories, and other valuable content with your email subscribers. This will help establish you as a credible source of information.
Personalize your emails: Make sure your emails contain content relevant to why your subscribers signed up in the first place.
Highlight success stories: Share success stories from your clients to inspire and motivate your subscribers. Sharing success stories about people who are just like your subscribers will help them understand how you could also help them.
Best Practices for Effective Email Marketing
Here are a few best practices to help you get started with effective email marketing:
Frequency: Send emails regularly, but don't overwhelm your subscribers. A good rule of thumb is once a week but at the very least once a fortnight.
Subject lines: Write compelling subject lines that entice subscribers to open your emails. Make sure the subject line hints on what's in it for them. They get a lot of emails so don't waste the effort you put into the content with a generic subject. Avoid subject lines like "Monthly Coaching Tips" or "March Update Email". Be more specific about the content and what they can get out of it like "How to avoid common race day mistakes" or "Race faster in your 50's with these 4 tips"
Personalization: Personalize your emails with subscribers' names, with modern email marketing tools you can do this in the greeting, body of the email and even the subject.
Call-to-action: Every email should have a clear call-to-action. This could be to read a blog post, share a piece of content with their friends, sign up for a coaching session, or follow you on social media.
Email marketing is a critical tool for coaches. By nurturing your email list regularly, you can build trust with your subscribers, provide value, and ultimately increase conversions and customer loyalty. Start by sharing valuable content, personalizing your emails, and highlighting success stories. Remember to follow best practices for effective email marketing, including frequency, subject lines, personalization, and a clear call-to-action. With these tips, you'll be well on your way to building better relationships with your potential customers.
Don't have an email tool yet?
At Training Tilt we have built in integrations with Drip, ConvertKit and ActiveCampaign. They are all good options.
Take our Free "Authentic" Marketing Course for Coaches
Designed for endurance sport coaches. Marketing doesn't need to be pushy. The best marketing simply creates a win-win relationship between you and your customers. Take the simple 6 part course to learn more.