April has been an exciting prologue to Aussie living. Its like if you want a chance at the yellow jersey you have to give it everything you've got on the first Time Trial. We had a long warm up with a 32hr road trip from Melbourne to Noosa. Hit the first small hill finding our rental accommodation. And are currently lapping up the views in our new home and training destination.
A Recovery Camping Roadie
After multiple flight changes, we ended up flying into Melbourne. It's always harder flying east, and I'm yet to learn the art of sleeping on an overnight flight. Once arrived we did things right and kick-started our time zone change getting up at 5am/1am Thai time for some training. We stayed with Alex's parents for a couple of days and very conveniently Alex's mum was treating herself to a new car and sold us her old one. In exchange, we freed up some of their home storage space by collecting yet another stash of stuff.
We regrettably unstrategically packed our new car with 4 bikes, 2 surfboards, 6 spare wheels, camping gear, and clothes and shoes to fill the gaps, before starting our scenic commute north. We drove 2700+ km over 5days, stopping in at a few sights, small-town ice creameries, antique stores and swimming pools along the way. I should also mention that I still had my moon boot on for this excursion and our car is a manual, so Alex did all the driving and learnt that he wouldn't like to be a truck driver.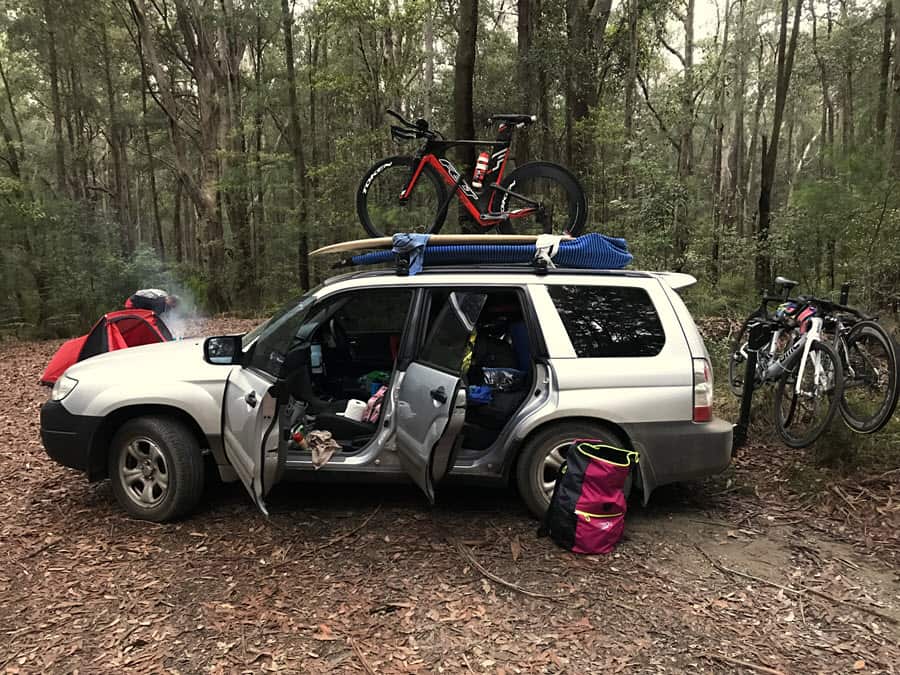 It just so happened that we were travelling on peak, Easter weekend, which made camping sight spots a bit more of a premium. Though no fire bans in the National Park did mean we got to toast hot cross buns over the campfire for breakfast and lots of people about made it feel very holiday-like. We met a probably self-taught astrologist that pointed out the Southern Cross and the Saucepan. Drank grossly sweet goon wine that should be labelled for desperate campers only. Also had self-herding cattle at sunrise and sunset walk straight through the middle of our campsite.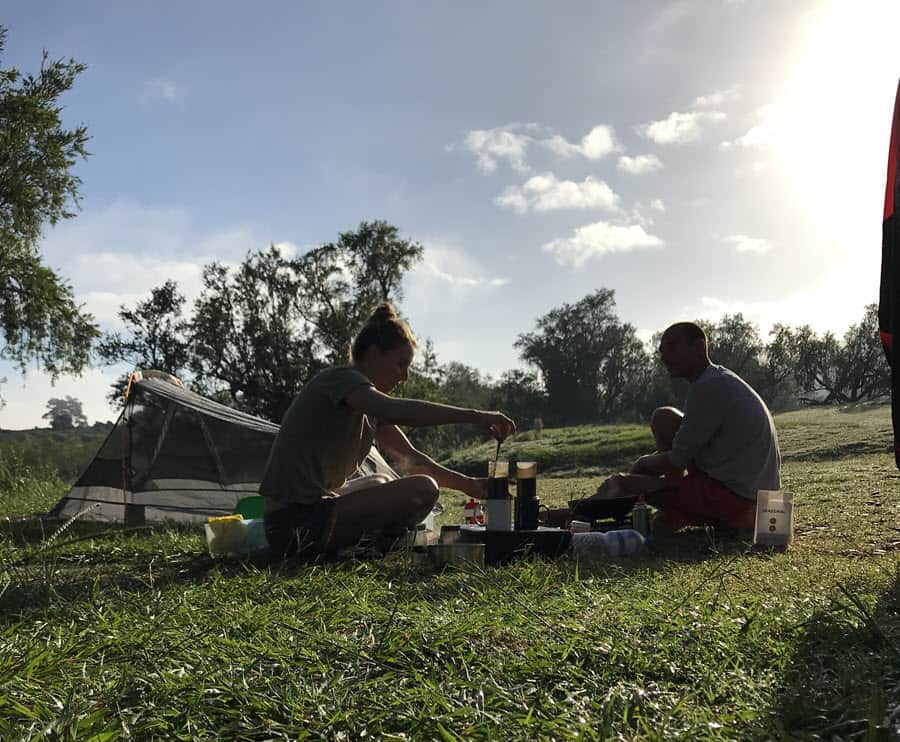 Dismounting in Noosa
1st April marked our arrival in Noosa. There's a great vibe here, chill yet active, definitely, a lifestyle town, sunny highs of 26-30 and everyone's up and at it for sunrise at 5.45am. I got on to some part-time work to mitigate the slight cost differential to Thailand living. Quickly discovered the famous JR Swim Squad at the Noosa Aquatic centre. Also indulged in a well-deserved dinner on the river from one of the best fish and chip shops after my first longish ride back.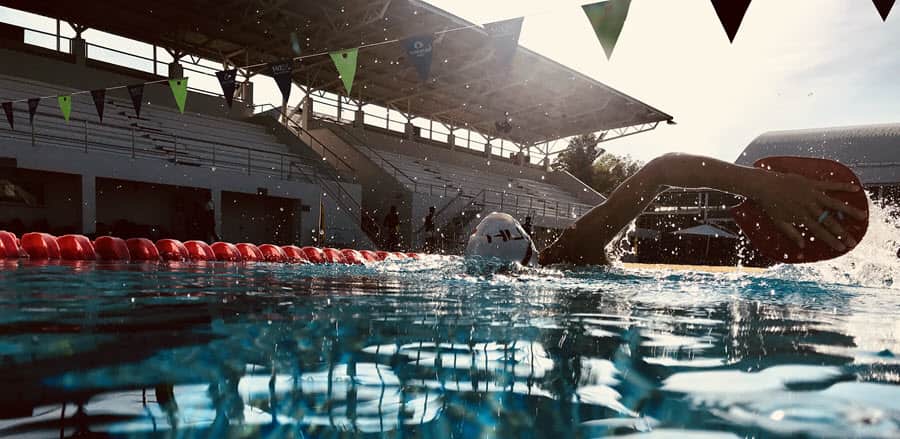 We moved in with our Czech friends Jakob and Terez for a couple weeks while in search for a place to accommodate all of us. With 3 triathletes and all our equipment living in the lounge room, we quickly worked out we needed a garage and that the 200L fridge didn't cut it either. Apparently, this time of year you have to outbid for rentals. So it took 2 weeks and 10 rental inspections before thankfully finding a break lease in Peregian Springs. It featured a 2 car garage and we bought a 500L fridge.
We managed to minimalistly furnish our house with the essentials from the FB marketplace and local op shop where I got to implement my Thailand battering skills. We had our camping gear and a front lawn as our B plan, so it wasn't too stressful. Best story was that the household we picked our fridge up from had to be moved out by the next day, it was 8 pm and they were plastering and painting up a hole in the ceiling because at last weekends party someone stuck their head through it. They also gifted us all their kitchen accessories. Kinda like a Strava segment bonus on race day.
Training Progressions
Firstly it's epic being back on my bike. I feel like I have that sense of freedom and adventure again, plus my body is feeling more complete with burning legs as well as arms. I'm fast learning that many of the joining roads on google maps are better suited to mountain bikes and that clay roads are like slippery slides when it's raining. Still not used to seeing Kangaroos in the middle of the road and I think I'm the more startled one on an encounter. I have discovered the also famous Garmin hill, part of a car rally course its 7.30mins long (moderate pace) of 4ish% gradient, closed to cars and perfect for big gear efforts. It's also a nice sun baking spot for Goannas.
I'm not yet back running (9 weeks since a second metatarsal stress fracture). As content as I am just swimming, biking and gyming, and love that I can do more volume with less fatigue. Internally it has been fairly frustrating and disheartening. As racing is how at my level I survive as a professional. However, I can definitely see the light, that its a blessing in disguise and that big settled training blocks can work wonders. I have started to embrace the aqua jog movement. Turning it into a brick session post-swim. I've been using a belt and mixing it up with some pace change and ladder sets to get my heart rate up to tempo pace, and also to stay warm. On one occasion I had fellow joggers to chat to who asked me what could be wrong with my joints at my age.
Swimming is awesome. My consistency of being able to hold threshold pace is way better and for a non naturally talented swimmer, I'm loving it. I've quieted down on the kilometre front though, only hitting kms in the 30s. I also count myself super lucky I'd done that swim block at Thanyapura before I arrived here because JR squad warm-ups are never any slower than a 1.30 cycle. Session of the month:
4x200 on 3 every 3rd form
8x50 alt 25 scull 25 fr/ 25 scull 25 fly on 1
8x100 on 1.30 des 1-4 (fast under 1.15)
200 kick
200 as 50 fr 50 bk
6x400 on 6 des 1-3 (fast under 5.15)
200 kick
200 as 50fr50bk
8x100 on 1.25 pull buoy pads
12x50 kick on 1.10
400 as 50 fr 50 form
I'm stoked that my last 4 months of solid gym work is noticeably starting to translate across to swimming and biking, and also my lat size. Being able to push right through the back of my stroke and engage my glutes more on the bike. I tried hanging dips for the first time in a few months (since doing a lot of other arm and back work), previously I wasn't able to do any, I surprised myself with 8 reps and 3 sets. Always nice. I made the new goal of being able to squat my weight too.
Next month is scheduled for a solid training block and no racing or travel.
I'd give myself a bronze medal in our Prologue to Aussie living. The hustle of the mountain and cobble stages are to come later in the year.
Take our Free "Authentic" Marketing Course for Coaches
Designed for endurance sport coaches. Marketing doesn't need to be pushy. The best marketing simply creates a win-win relationship between you and your customers. Take the simple 6 part course to learn more.