When you share free content, you are building trust with your potential customers. This trust will only grow if you continue to provide quality content that is valuable and helpful. In the short term, this will generate more awareness for your brand and your products and services. However, in the medium and long term, providing quality free content will always generate new customers as they move into a position where they are ready for them. As I've written about before, where your audience is in their own journey is the biggest factor to whether they will purchase any of your paid services. Offering free content ensures they will remain engaged with your brand until they reach that point. You can read more about this "Customer Journey" in my other post about the "Buyers Pyramid"
For endurance coaches, there is are many types of content you could use to generate trust. Today I'm going to focus on sharing free workouts.
Sharing free workouts is popular with coaches for good reason and you'll often see coaches regularly sharing something like the "Workout of the Week" on social media. Workouts are great for free content because they are well targeted at people in your audience who are likely to be good customers. They are also likely to be attractive to potential customers who don't currently have a structured training program and are progressing toward the point where they need some extra help in their training. Starting with one-off workouts that are interesting, enjoyable and effective is a great way to bring them closer to becoming a customer in a way that is genuine and mutually beneficial.
1. Create a branded image of your workout
Every exposure to your brand you can get is crucial and will add to it's strength. When you post your workout you should create a professional and branded image to go along with the workout. An eye catching image will help your post stand out and make it more memorable to your audience. Include your color scheme and your logo along with some details of the workout. You probably won't be able to include the full details of the workout in your image due to size but that leads on nicely to the next tip that you should ultimately be sending potential customers to your website.
If you are a Training Tilt coach you can now use our new "Workout Sharing" feature which auto generates branded images that you can use on social media. You can learn more about how that works here. You can set your own background colors and it will render your logo automatically and it will generate a graphical representation of the structure of the workout if you've used the structured workout builder.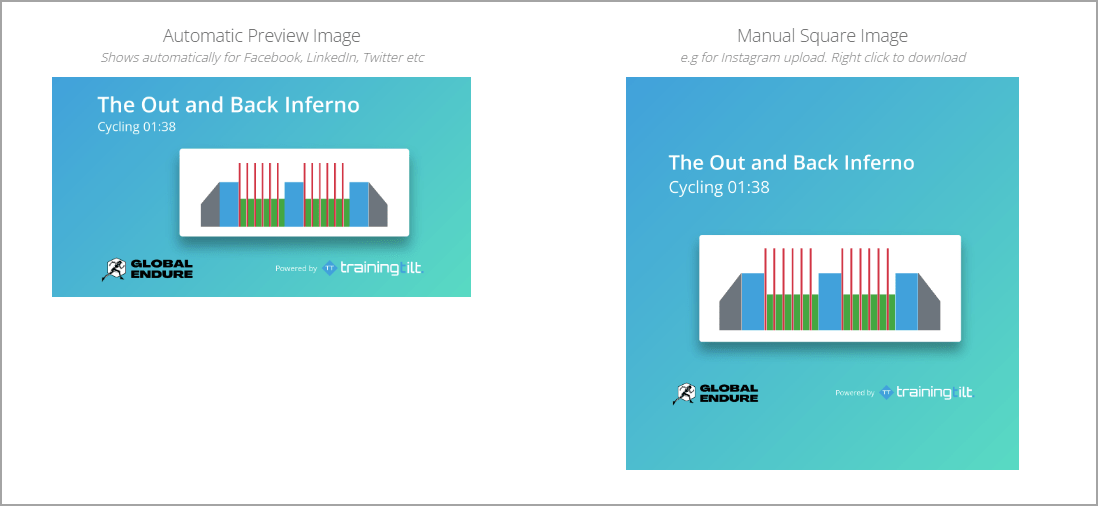 2. Share your free workout on multiple social media channels
Sharing your workout on multiple social social media channels can help you get more reach and engagement. Social media has become much more fragmented compared to the early days when Facebook and Twitter were dominant. Your potential customers are now spread across more platforms, the more platforms you share the workout on the more people will see it. This can be time consuming but there are tools to help you streamline this process by posting once with automatic distribution to other platforms. Buffer, Hootsuite, SocialBee, MeetEdgar and Publer are just a few of the platforms available to help you save time publishing to multiple social media channels at once.
Here is SocialBee in action. Creating one post to share across five different social media channels

If you are posting manually and/or are time poor, don't fall into the trap of thinking that you have to post it everywhere every time. The most important places to post your workouts is where you ideal customers hang out online. If you are targeting professionals or executives then make sure you post to LinkedIn. If you are targeting Millenials then make sure you share on Facebook and Instagram. If Gen-Z is your market then make sure you post to Tiktok, Snapchat and Instagram.
3. Send people to your website
It's easy to just post on social and leave it at that. When you are running a business your goals are often at odds with the goals of the social media platforms. The platforms make their money by keeping their users on the platform for as long and for as often as possible, where your goal as a business is to engage on social but eventually send customers to your own assets. When you post to social include links to your website. When you do this though, you need to give your audience a good reason to go to your website which is highly relevant to what you just posted. Something that provides more value or is a better experience than what's in a social post. . In the case of sharing workouts you want to send them to your website so you can provide them with more details about the workout and/or an interactive experience.
If you are a Training Tilt coach you can use the same workout sharing feature already mentioned that provides an interactive experience on a web page you are in control of. Once you share a workout a public page is automatically generated that shows the detail of the workout including any videos you've linked and any downloadable files you've added. If you've built the workout using Training Tilt's workout builder it will also show an interactive graph of the workout and your visitors will be able to download the structured workout and download it for their devices or to upload into platforms like Zwift and TrainerRoad.
Here is a screenshot of what a workout likes like on your site. You can checkout the live demo here from your audiences perspective. You can also see more detail in our release announcement here.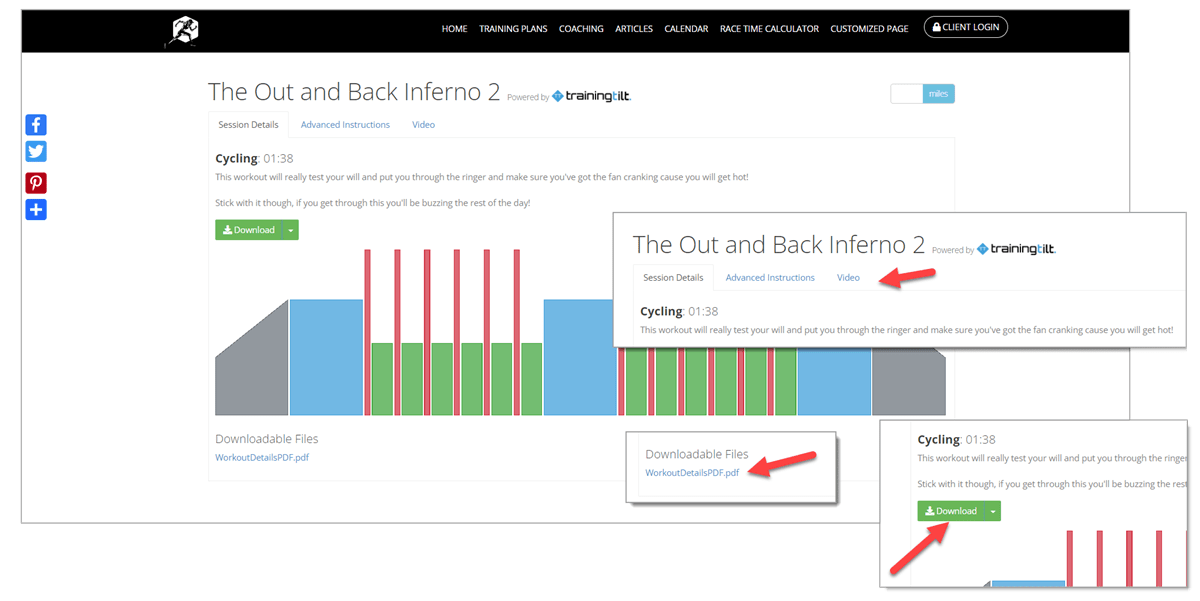 You can watch a quick demo of our new workout sharing feature below.
4. Use hashtags when sharing your free workout
Hashtags can be a great way to increase the reach of your workout posts to people who aren't already following. Potential customers who are searching for specific types of workouts often find them through hashtags. For example, if you're posting a "Fartlek" run session, using the hashtag #fartlek could help you connect with more runners.
5. Tag people groups or events
If your workout was inspired by a particular event, athlete or business then tag them into the post and explain the purpose or the inspiration behind the workout. This will give credit to the inspiration but also make it more likely to be shared or liked. For example if you workout was inspired by a particular race or event like the "Alpe D'Huez Triathlon" bike course then explain how you designed the particular intervals in the workout based on the bike course and then tag in the official event pages.
6. Include links to your website, blog or email address in the description
We mentioned earlier that you should send people to your website via a link and you should also include links to your blog, your other social platforms and you contact details in the description. If people like your post then they might want to find out more or get in touch, make it as easy as possible for them to click through to your website so they can find what they need or get in touch as easy as possible. Attention on social media is fleeting so if you've made an impact you want them to be able to react immediately.
7. Post your free workout on Facebook groups or other communities
By posting your workout on Facebook groups or other communities, you can help people get more out of their training and make connections with like-minded individuals and potential customers. By promoting your free workout in relevant communities, you may be able to attract new customers who are looking for new and interesting workouts.
8. Ask for feedback from people in the post
When you share let people know you appreciate feedback and are actively looking to receive it. This will help start conversations with your audience and potentially help to build relationships with new customers. You'll also begin to learn about what people do and do like about your workouts and your approach to training. Then you can either adjust your own approach or alternatively help you determine what type of customers your approach resonates with the best and then you can focus on finding more of those types of people.
9. Be patient and be consistent – post every week
Just like training, promoting your business takes effort and consistency over time. You will likely not get a lot of engagement in the beginning and it will take months of consistent posting of high quality and engaging workouts before you start seeing results. People often appreciate free content when they find it but it will take a while before it filters back to you, so be patient and keep sharing your workouts.
A good cadence is to share a new workout at least once a week. If you miss one week that's ok, just don't miss two in a row. If you get stuck for inspiration or run out of time some weeks, it's ok to repost a workout you've already shared. Social media is a busy place and only a small percentage of your audience ever see your individual posts, so posting things more than once is a good strategy regardless.
Conclusion
There are a lot of free workouts out there, but not a many of them aren't easy to find or presented in a way that is easy for someone to use in their own training. Make sure you share your workouts widely, so that people can find them easily. Give people a little context about your workout and why they might want to try it out. And most importantly share your workouts in a format that makes it easy and convenient for a potential customer to actually use in their Training.
Training Tilt can help make sharing workouts to social media much easier and faster with our "Workout Sharing" tool. You can learn more about how it works here
Take our Free "Authentic" Marketing Course for Coaches
Designed for endurance sport coaches. Marketing doesn't need to be pushy. The best marketing simply creates a win-win relationship between you and your customers. Take the simple 6 part course to learn more.