For almost a decade here at Training Tilt we've been processing and automating client coaching payments and self service online membership payments for our coaches.
Since 2015 we've securely processed millions of dollars worth of coaching revenue through our Stripe integrations. It has always been a big part of our mission to streamline the operations of endurance coaching businesses to help them save time and money so they can get back to what they love. Coaching their athletes.
As a coach, you're the expert when it comes to guiding athletes to their personal best in endurance sports. But when it comes to the business side of coaching, we know it can be a challenge to juggle everything. That's where the power of online platforms like Training Tilt comes into play.
One crucial feature that can transform your coaching business is the ability to take recurring payments online. We've integrated Stripe into our platform to streamline your payment process and have your coaching operations all in one place.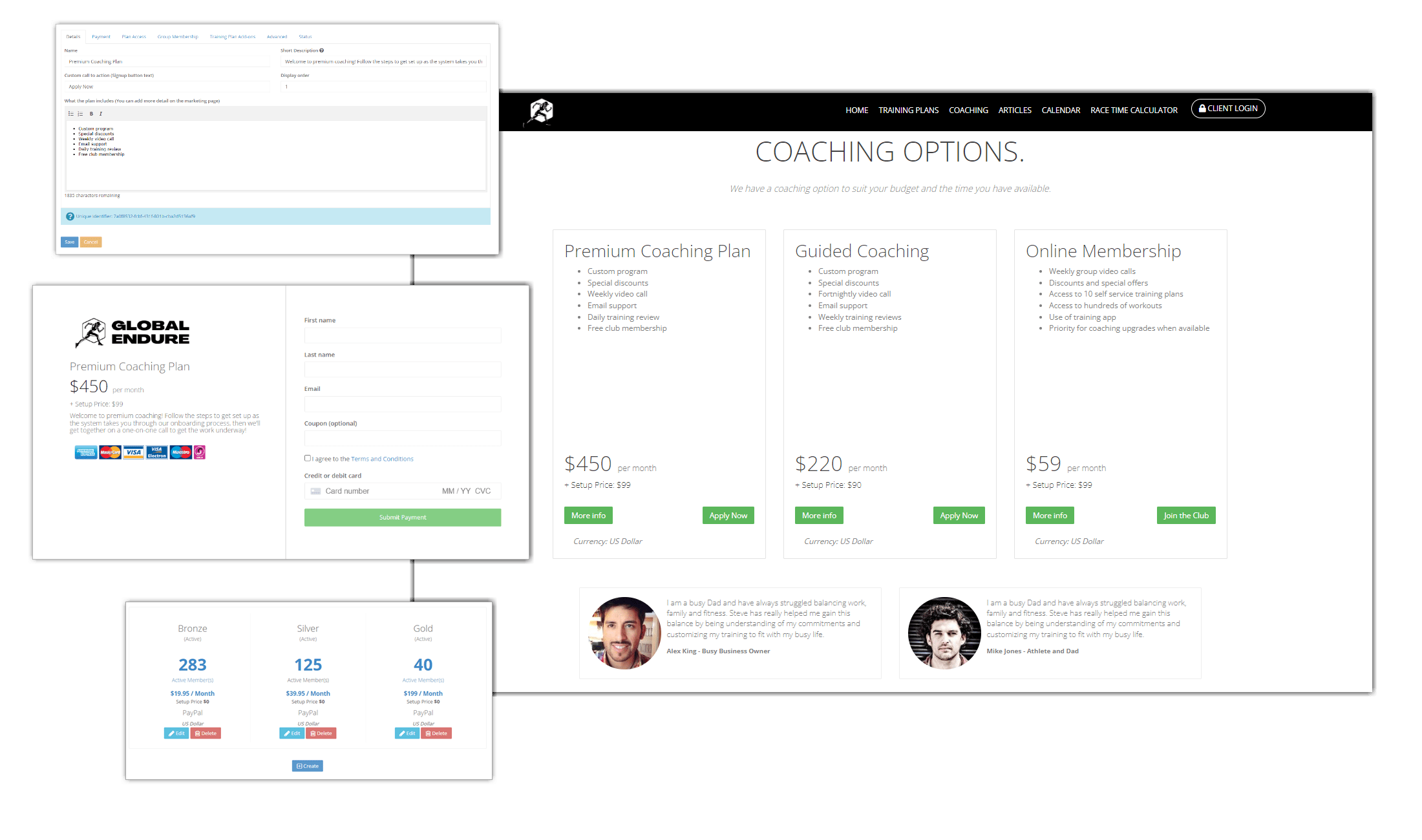 Why is this such a game-changer? Here are five compelling reasons:
1. Streamline Your Operations
The first and most obvious advantage is the convenience. By using Training Tilt's integrated payment features, you can manage all your coaching responsibilities in one place – from collecting onboarding information to providing personalized training plans, and yes, even handling payments. This allows you to focus on what you do best, coaching, while the software takes care of the administrative tasks.
2. Ensure Consistent Cash Flow
With recurring online payments, you can stabilize your income. Instead of waiting for individual bank transfers, payments are automatically processed at regular intervals. You'll have a clear view of your incoming revenue through your Stripe dashboard, which helps with budgeting and financial planning.
3. Improve Client Convenience and Retention
Your clients lead busy lives, just like you. The simpler you can make the payment process, the better their overall experience will be. Automatic payments mean one less thing for your clients to remember, improving their satisfaction and increasing the likelihood they'll stick with your coaching in the long run.
4. Enhance Security
The integrated Stripe payment system used by Training Tilt offers top-notch security for online transactions. Client payment information is securely stored and encrypted with Stripe, ensuring both you and your clients are protected.
5. Gain Professional Credibility
Offering an integrated payment system signals professionalism. It shows you're serious about your business and have invested in infrastructure to provide the best service possible. This can make a difference when potential clients are choosing between you and a coach who is still managing their business manually.
The Training Tilt Advantage:
At Training Tilt, we've made it our mission to make running your coaching business as seamless as possible. Our platform doesn't just offer the ability to take recurring payments online; it's a comprehensive solution for managing your coaching business.
With our Stripe integration, you can set up subscription plans, one-off payments, and even offer promotional codes. On top of that, you can automate your client onboarding process, collecting vital information and payment all in one go.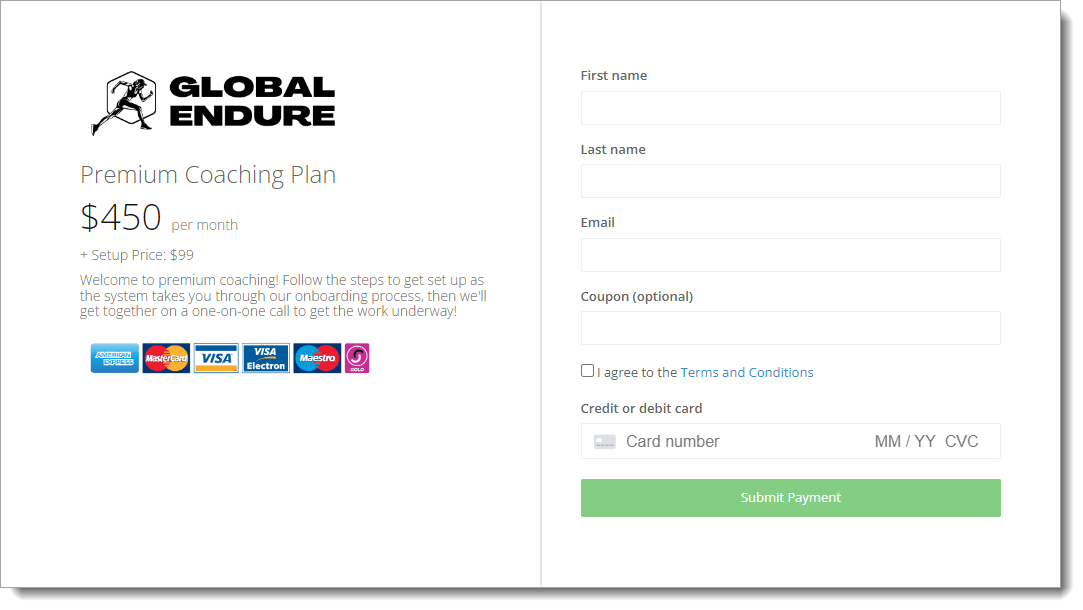 One of the unique features that sets Training Tilt apart is the ability for coaches to create recurring payment plans and sell memberships on a self-service basis. This feature allows you to scale your business and reach more athletes than ever before. With a membership, your clients gain access not just to your tailored training plans, but also to a wealth of content that you can choose to share. This could include informative articles, instructional videos, and exclusive tips – all of which can be configured based on the membership level. This self-service model empowers your clients, giving them the flexibility to access your expertise and resources at their convenience. At the same time, it opens a new revenue stream for you, making your business more resilient and sustainable. With Training Tilt, your potential to grow and scale your coaching business is truly limitless.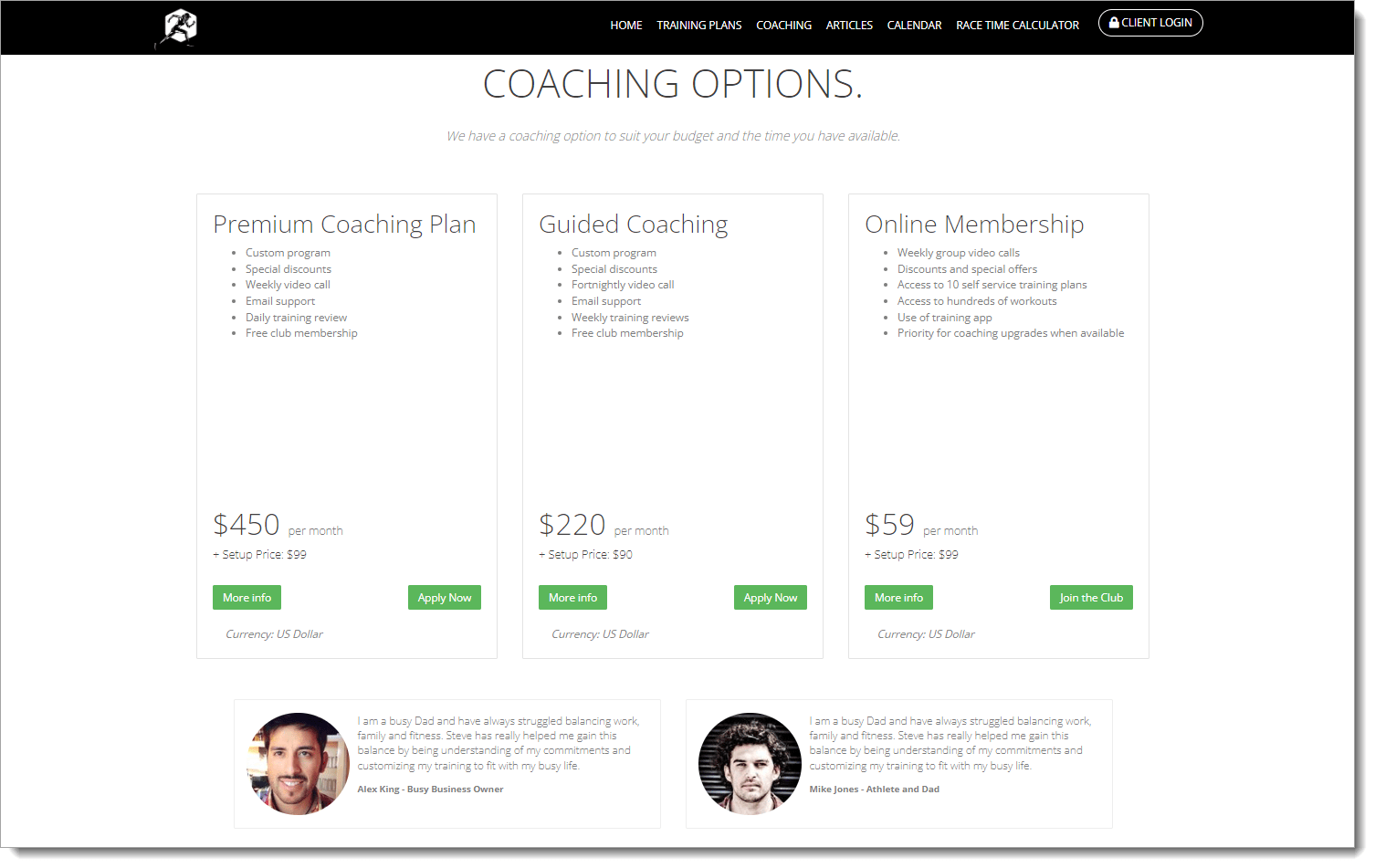 Our platform also provides you with a suite of tools to manage your coaching, from creating personalized training plans to tracking your clients' progress. And because it's all in one place, you can easily correlate your clients' payments with their training data, giving you a complete picture of your business.
The bottom line? Recurring online payments aren't just a convenience – they're a tool that can help take your coaching business to the next level. At Training Tilt, we're here to help you make that leap. So why not harness the power of our platform and focus on what you do best: creating outstanding endurance athletes.
Signup today for a free trial and start accepting payments online.
Take our Free "Authentic" Marketing Course for Coaches
Designed for endurance sport coaches. Marketing doesn't need to be pushy. The best marketing simply creates a win-win relationship between you and your customers. Take the simple 6 part course to learn more.