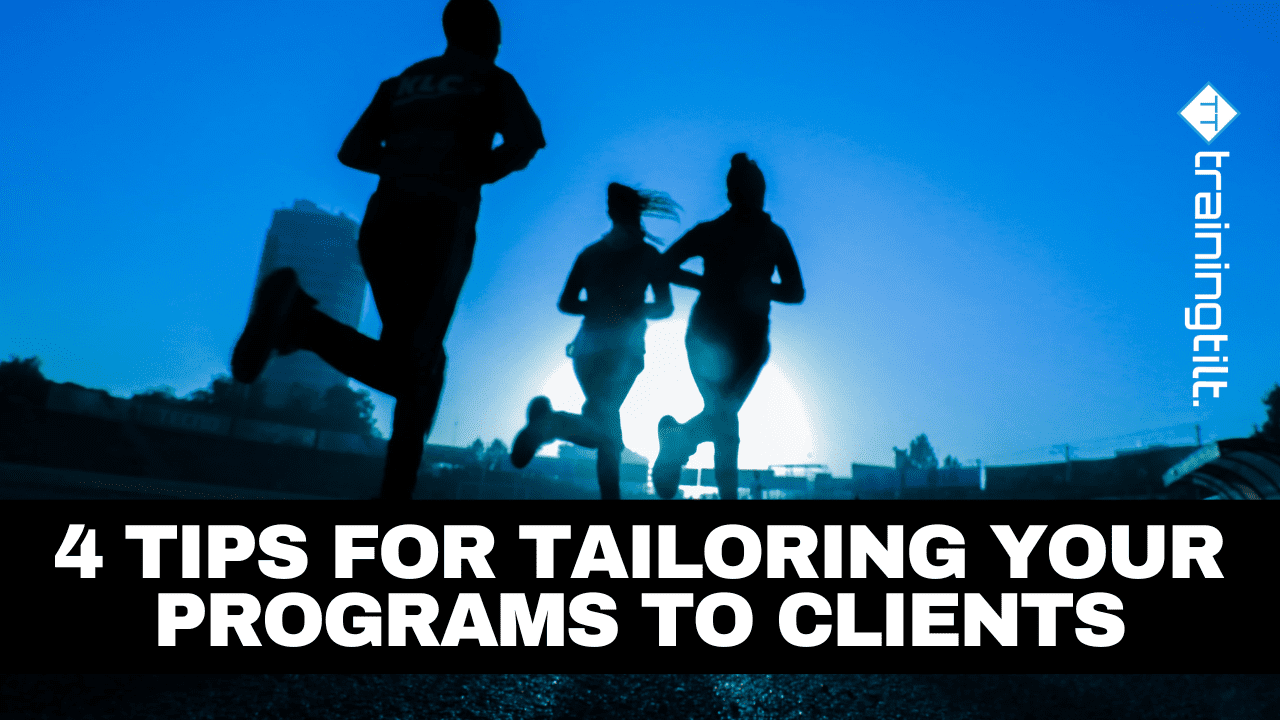 The ability to tailor a fitness program to meet each client's specific needs is a crucial factor in successful coaching. Not only is it a testament to your effectiveness as an endurance coach, but researchers from the Netherlands have found that it's associated with better health outcomes and adherence. It's also a practical strategy that increases client satisfaction, which could potentially help grow your coaching business.
When it comes to fitness, there is no one-size-fits-all approach because everyone has different goals. Some clients may come to you at an advanced fitness level, while others are just at the beginning of their journey. Exercise physiologist Elizabeth Quinn notes that it's necessary to conduct an evaluation of your client's health level, physical limitations, and overall expectations before starting a structured training plan. This will allow you to develop a holistic approach to your client's overall wellness, including diet, exercise, stress management, and other lifestyle factors.

Below, we look at more tips for personalizing your workout programs to help your clients achieve their fitness goals.

Tips for tailoring your fitness programs
Underlying medical factors
While evaluating the needs of some clients, it's helpful to discuss health factors such as the types of medications they are taking. For example, you may come across individuals with diabetes who are seeking to improve their endurance without increasing their risk of hypoglycemia, hyperinsulinemia, or other cardiac events. A common OTC medication for diabetic individuals is Metformin for weight loss and for lowering blood glucose levels. Metformin works by reducing how much glucose is released from the liver and helps the body absorb more glucose from the bloodstream. Some common initial side effects of Metformin are nausea, stomach pains, and weakness. As an endurance coach, it's vital to understand how medications like this can impact your client's fitness journey so you can make adjustments to their training regimen.
Regular assessments and check-ins
Through regular check-ins, coaches can monitor their clients' progress, identify areas that require attention, and facilitate setting realistic and attainable goals. Most athletes can handle a 5-10% increase in the weekly training load, but this can still differ per individual. As a coach, it's important to make sure that your client's body has recovered and regained balance and confirm whether the load should be adjusted. Otherwise, regular check-ins are a great way to celebrate milestones and keep clients motivated. To do this, schedule one-on-one meetings with your clients that are dedicated to reviewing their growth. This is key for building trust and reinforcing your clients' commitment to live a healthier lifestyle.

Adding variation
Consistency and discipline are foundational elements that are beneficial for building skills, endurance, and strengthening the same muscle group. At the same time, it's also advantageous to incorporate a variety of workouts as your clients' skills grow. Even by simply changing exercise movements, you can better help your clients avoid plateauing. According to Dr. Leonard Pianko, having the same daily routine can result in the neglect of other muscle groups, fatigue, and injury. So, don't be afraid to mix things up and adopt a balanced approach to enhance your clients' overall fitness performance.
Incentives for motivation
Incorporating incentives can add an extra layer of motivation and excitement to endurance training relationships. Examples can include creating a rewards system where clients earn points or tokens for achieving specific fitness milestones. At Training Tilt, we love using high-quality merchandise to attract new clients and promote our business. Other examples can include creating a rewards system where clients earn points or tokens for achieving specific fitness milestones. Alternatively, you can organize workout challenges or contests with merchandise prizes for winners. This encourages healthy competition and allows your clients to bond with one another, creating a network of support.

By implementing the strategies we've laid out above, endurance coaches and fitness coaches can create a supportive and dynamic training environment that caters to specific client needs. As a result, you can keep your clients satisfied and committed to their fitness journey, all while boosting your business' reputation.

For more information on creating successful training programs, visit the Training Tilt website, where you can take our free marketing course designed for endurance sports coaches!
Take our Free "Authentic" Marketing Course for Coaches
Designed for endurance sport coaches. Marketing doesn't need to be pushy. The best marketing simply creates a win-win relationship between you and your customers. Take the simple 6 part course to learn more.