There is a saying in business, "The best new clients are old clients". As a coach, inevitably you will need to look for new clients as you grow or as existing clients move on. New clients are great but it takes a lot of time, effort, and money to acquire them.
To keep your business growing and revenue coming in, it is essential that you create new services, or innovate existing services so that you can offer more to your existing or past clients.
Before you go hunting for new clients, first make sure you are making the most of your existing client base. Always offer new products and services. And every day, think of new services you can offer your existing clients.
Here are four reasons why the best new clients are old clients:
1. You already know who they are and how to contact them
Finding new customers is hard. You need to know who they are, where they are and how to reach them. That's a lot of time, work and energy. Even if you find out who they are and how to reach them, you then need to convince them to buy your products or services.
Assuming you are keeping reliable and easily accessible contact details for your existing clients (and if you aren't then you should be) all you need to do is to call or email them to offer them your products or services.
With Training Tilt you can keep accurate and up to date records of your current, prospective and past clients with our contact list feature . When someone makes a purchase from your site they are automatically added to the list. It's easy. You can even export their contact details so you can upload them to email marketing tools or accounting software.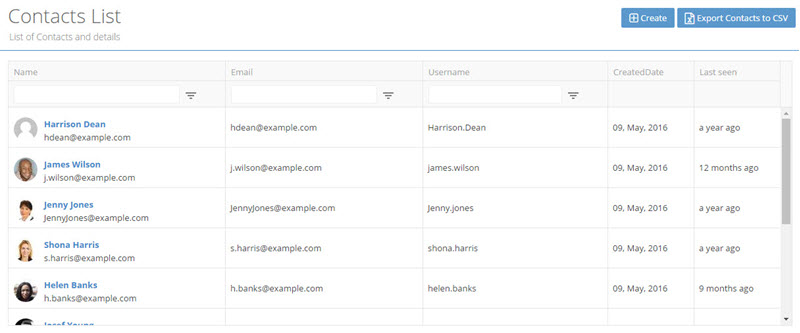 2. The cost of acquisition is much lower
The cost of acquiring new customers is high compared to selling to your existing or past customers. The higher the cost of acquisition, the longer it takes for a customer to become profitable.
3. They already know and trust you
No selling required!
Before you can sell your services, your customer must first know and trust you. This can take days, months or even years after your initial contact with them. We've had clients sign up to our coaching, e-commerce and community platform Training Tilt more than a year after making their initial enquiries. Sometimes it just takes that long for a customer to move through the purchase process. But for current or past clients they've already passed that point. As long as you have the right products and services, you can sell to your old clients right away.
4. Old clients are more likely to refer you to new clients
Keeping your current clients happy is the best way to get new clients. Satisfied customers will always be willing to refer friends and family to your services. Referred customers also have a very low cost of acquisition because you don't need to go looking for them, they are sent to you for free. For this reason referrals are the second best type of customers.
What to do next?
There is no denying that you should be selling more products and services, more often to your existing and past clients. But what are the practical things you need to do?
The key is to have the right range of products and services to sell to your existing clients. If you are only selling one-on-one coaching then you won't be able to sell anything to those clients who are only interested in say a Training Template Plan. Clients' needs and goals may change a lot over a short period of time. You need to ensure your products and services cover the broad spectrum of clients. If you don't offer what they are looking for then they will spend their money with someone else. At that point you may never sell anything to them again - even if eventually they decide they do want to return to one-on-one coaching.
If you create the right mix of products and services at the right price you can sell to your old clients even if they aren't looking for the same products and services you originally sold them.
Here are the key products and services you should be offering:
1. One-on-one coaching
This is the most common service offered by coaches. It is typically the most rewarding for the Coach but its also the most time consuming service to offer. One-on-one coaching has a smaller market than other products and services and clients will slip in and out of this service, depending on their own goals and circumstances. It's a great core service but it won't scale and has a low revenue ceiling due to the time it takes to service each client.
With a Training Tilt site you can have a full set of training plans and athlete feedback and communication tools at your disposal.
2. Template Training Plans
This is a great product typically created as a digital product. You only need to do the work once and then sell it over and over again. The Template Training Plan is a lower value product but scales well because the cost of each sale is low. There is no income ceiling on this products and in my opinion should be part of every coach's product offering.
I've talked to a lot of coaches who don't want to sell Template Training Plans due to an misconception that they are a low quality product. They are definitely lower value but they open up your business to a much larger market of customers either unwilling or unable to pay for one-on-one coaching. They are also a great "lead" product and will typically be an entry point for many clients who eventually upgrade to the coach's higher value products. If you don't offer these products your competitors will and they will take your clients.
With a Training Tilt site you can create training plans using our plan building tools and publish them directly to your Training Tilt online store where clients can purchase and download as PDF's or link to their account with you and access the interactive training plan features, including via mobile apps. You can find out more about that in more detail here.
3. Online-only coaching memberships
Similar to template Training Plans but higher value you can offer online subscriptions to a library of your own resources and training plans. You can also include a community aspect and let your online members socialize and communicate among themselves. Again like template Training Plans these are a great "lead in" product to keep your "funnel" for higher value products flowing. If you build client trust through these products eventually many of them will upgrade to one on one coaching. They are also a great "lead-out" product when your one-on-one clients decide they don't need (or can't afford) to pay for you one-on-one services. You can easily drop them down to an online membership so you keep them engaged so if and when they decide they'd like to come back to one-on-one coaching they are still loyal and willing. If you don't offer these types of services these clients could easily become involved with another coaching group and you might end up loosing them forever.
Our software allows coaches to easily create membership plans that your clients can signup to and you can include access to resources like articles, videos and interactive training plans. It's all automated and we even take care of the payments integration so you can get paid automatically too. Have a read of our short "membership plans" guide to see how it fits together.
4. Consultation time (in person or over Skype)
These are a great "premium" product where you can share your expertise with consultations with your clients. These should be offered at a premium price. Remember that your time is worth more than anything else you have to offer. You need to make these easy to book and also easy to pay for. To maximize the size of your potential market you need to be able to offer these over the Internet (Skype etc) and have the ability to accept international payments via credit and debit cards. Don't ask clients to jump through hoops so you can save a few dollars in credit card transaction fees, just build it into the price. If you scrimp on the basics premium clients will perceive you as being cheap not thrifty. Perception matters a lot for a premium offering.
With a Training Tilt site it's easy to take payments for these using our Stripe payment gateway and our Adhoc payments features. A client email address and a few button clicks is all you need to get paid.
Conclusion
If you don't sell at least a few of these products you are leaving a lot of money on the table. The smaller your range of products the less you'll be able to resell to existing or past clients. Your current and past clients are a valuable resource so make sure you are making the most of them. At Training Tilt we are committed to making it as easy as possible for coaches to offer a bigger range of products (and get paid for them) through simple but effective technology including the help and advice required to make the most of it.
We offer a free 21 day trial so you can try out our features obligation free. Get started today.
Take our Free "Authentic" Marketing Course for Coaches
Designed for endurance sport coaches. Marketing doesn't need to be pushy. The best marketing simply creates a win-win relationship between you and your customers. Take the simple 6 part course to learn more.