Coaching can be one of the most fulfilling jobs. When coaching toward a marathon, triathlon or big event you get to build up athletes to take their performance to the next level and then watch them achieve their race day goals. There is nothing more satisfying than helping them complete their first marathon or triathlon race or stacking up their achievements.
However, like all jobs and businesses, financial rewards or payments are necessities too. After all, working one-on-one with athletes to help develop and execute a personalized training plan requires experience, effort and time.
However, getting paid isn't as easy as it seems sometimes and this can bring you a lot of concerns about when, where and how to do so. We recommend automated recurring payment as the best solution for this.
Recurring payments (also known as subscription payments, automatic payments, or recurring billing) take place when an athlete permits to be repeatedly charged for coaching services on a prearranged schedule. An automated recurring payment means the payment deduction is controlled by an automated system rather than a person. Let us get into why you should opt for this kind of payment.
4 Reasons to Accept Recurring Payments
Manual Invoicing is Time Consuming
Nothing takes up your time and draws on your productivity like manual invoicing. Coaches may be too occupied training athletes to remember to send an invoice. Invoice payment can also be delayed as a result of the document being wrongly interpreted or your clients may just forget to pay or lose track.
Avoid the awkwardness of following up
No one likes an awkward conversation and nothing makes people uncomfortable like talking about money. Particularly if you're hounding them for late payments, even if you're just sending out friendly reminders for overdue invoices. Automated recurring payments gives you a middle man which helps with avoiding the awkwardness altogether.
Don't Make your Clients do Extra Work
Many endurance coaching clients are individuals with fast-paced lives and numerous responsibilities. On top of that, they have many hours of weekly training to handle. After a long day of running, swimming or biking, it can be frustrating to have to deal with anything extra. A platform that automatically handles payments is something they would definitely be grateful for.
Remove the Monthly Opportunity to Fire you as a Coach
Let's face it - being coached isn't always pleasant. Sometimes, you have to push your clients to their limits to bring out their best and, while it is for their benefit, it isn't always fun. As a result, there can be a rise and fall in levels of motivation. When they have to continually decide to pay, it puts them under pressure and gives them a reason to consider quitting entirely.
4 Solutions for Accepting Recurring Payments (Pros and Cons)
You now understand why it's a great idea to accept recurring payments but what platforms can you use and which offers the most benefit?
Automatic Bank Transfers
This is a bank arrangement that permits money to be electronically transferred between multiple accounts. These transfers are made on a regular, periodic basis under specified conditions, and are carried out without further instruction or action by the customer.
Pros
You only need to set up once, after which payments happen automatically.
These don't cost much and as such are very affordable to many people.
Cons
It requires your client to do the work to get it set up.
It doesn't always work if you are coaching clients outside of your country
Automated Invoicing Through your Accounting System
Automated Invoicing is the process of scheduling invoices, in advance, to be issued automatically at a specified date and time using a system or software. Some popular tools for this include Xero, Quickbooks and Freshbooks.
Pros
It saves time manually sending invoices
Cons
It still requires your clients to do work each month to pay you
It is not always possible to auto follow up non-payment.
Paypal
PayPal is an electronic commerce company that facilitates payments between parties through online funds transfers. This is a popular pick right now.
Pros
Once a recurring payment is set up it is processed automatically.
Paypal can be used between countries and internationally.
Your clients/customers don't need a PayPal account to pay you.
PayPal's fees are less than many merchant accounts.
You can create and send invoices right through your account (no coding required!).
Cons
Paypal's user experience is clunky and often frustrating.
It can be seen as "unprofessional".
There are fees often hidden behind exchange rates.
Automatic follow-ups aren't well designed.
It can be difficult to integrate into your accounting system.
The admin portal is hard to use and confusing.
Training Tilt Membership Plans
Training Tilt is a platform that allows you to set up an unlimited number of membership plans for recurring or fixed payments.
Once you have created your membership plans, you can send links out to your clients to set up their payments with credit or debit cards or you can publish to a "Signup" page on your Training Tilt website.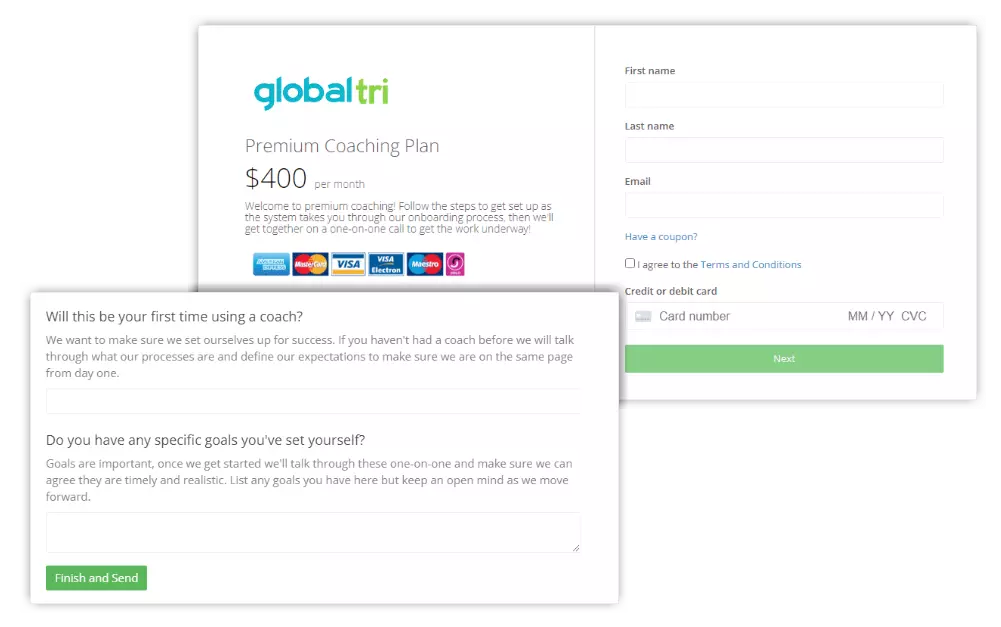 Pros
The setup is simple.
You can link payments to online forms and collect all the information you need about new athletes.
The plans are branded to your business, not Paypal's or your Accounting System.
Being integrated into your coaching site makes it easy to check on payment status
It is a streamlined experience for your clients
It is linked directly to their training account
It also facilitates price variations and special pricing with coupons for specific clients.
There is a provision for automated failed payment follow-ups (so you don't have to)
It offers automated expired card renewals (via Stripe)
It supports credit and debit cards from almost anywhere
It can be used for one on one coaching and online-only memberships
Coaches can assign access to various training plans and content within their site so clients can effectively handle the training on their terms.
It can be integrated easily with your accounting system (Via Stripe)
Cons
Fee Payment: These membership plans do require payment of stripe fees and Training Tilt fees. However, these fees are not only affordable but also you can be certain that the services are worth every cent. With this platform, you no longer have to stress, worry and waste time getting your payments every other day. So, you're getting a great deal. Talk about money well spent.
Conclusion
The 4 automatic recurring payment solutions discussed above are all valuable, as they each ease the burden of receiving payments for your coaching services by taking care of everything. PayPal and automated invoicing are popular and are often used. They have many benefits but also have some shortcomings compared to options such as Training Tilt membership plans.
Considering the 4 platforms above, we think Training Tilt offers the most comprehensive, coaching specific solution.. However, you don't have to take our word for it, try it for yourself. Sign up for a free trial today. If you are already a Training Tilt coach then jump into your site to get started.
Next Steps?
Read on to learn more about setting up recurring payments in Training Tilt. Sign up for a free trial if you don't have an account yet
Here's How to Setup Recurring Payments in Training Tilt
First, navigate to "E-Commerce - Membership Plans" and click "Create"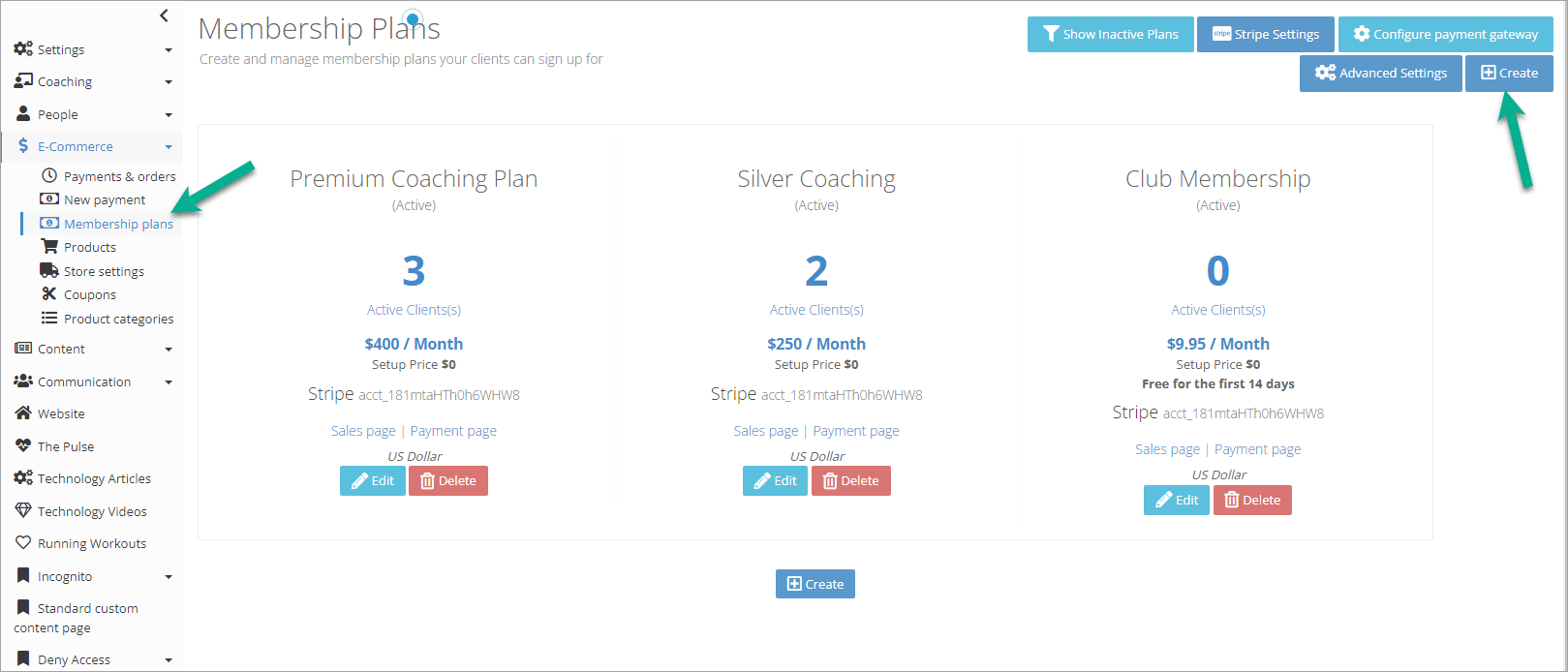 Now enter a name, a short description and list the benefits of the plan. The name and short description will appear on the payment page and the benefits on your sign up page if you chose to make the plan public.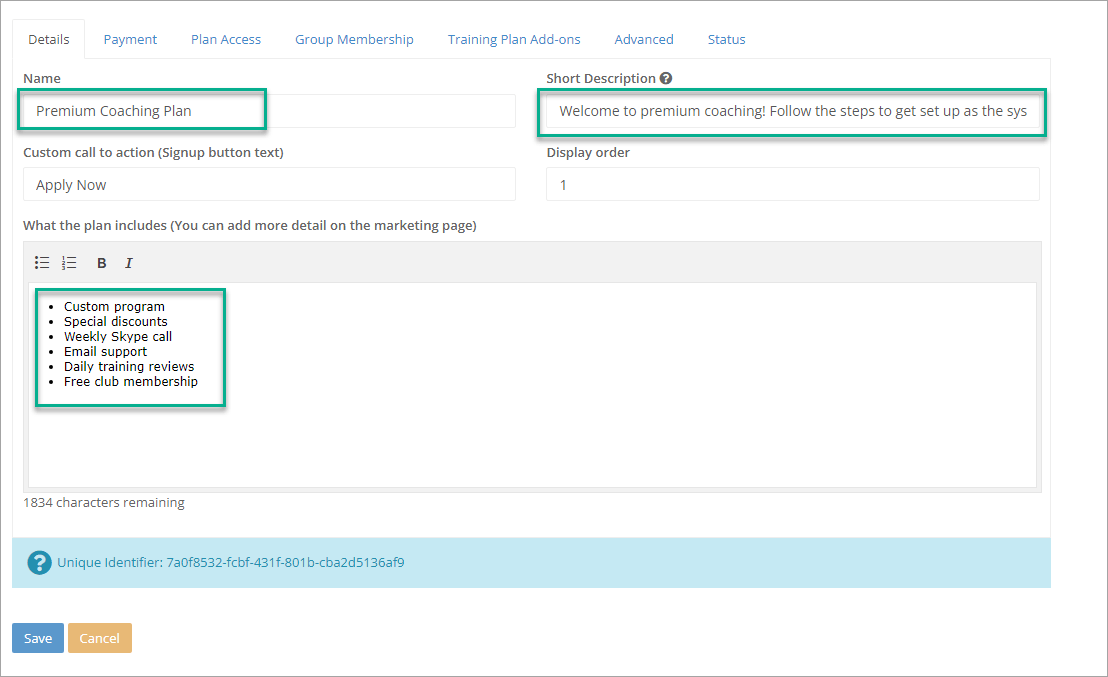 Now move to the pricing tab and configure your currency and price. You'll need a Stripe account here but we won't cover this today. Stripe is one of the leading payment processing providers.
There are a number of options for setting up your pricing but for today we will stick to a standard monthly recurring fee of $400.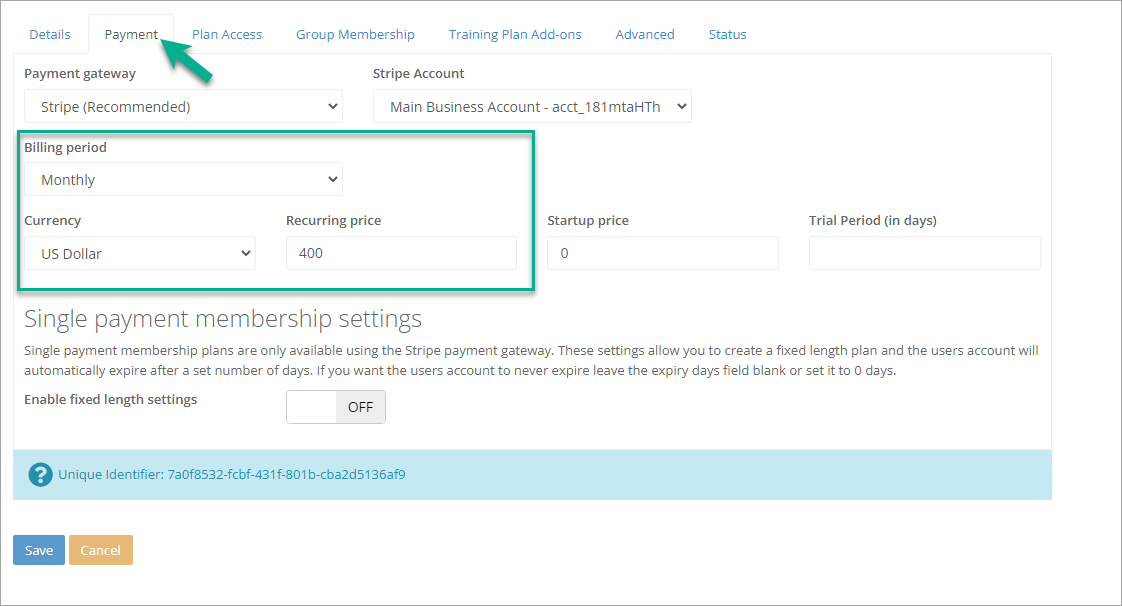 Now save your plan. By default your plans will now appear automatically on your public signup page on your Training Tilt site.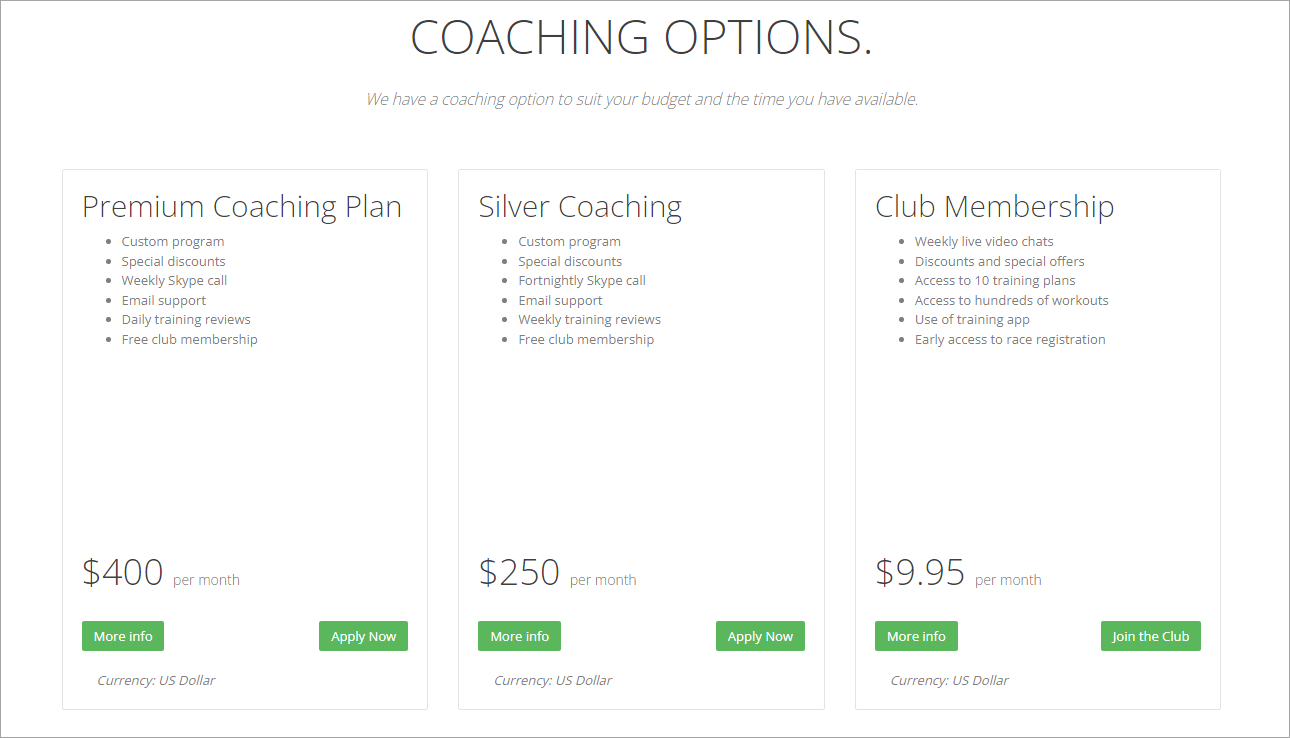 If you want to keep this plan private then you can set the plan to be hidden and only available if you send the link to to the payment page directly to a customer.
You can make the plan hidden on the status tab

Now if a client visits your signup page or you send the link to the payment page to them directly they will be able to enter their personal details along with their payment information and continue to create their account in your system. From then on the payments will be processed automatically every month.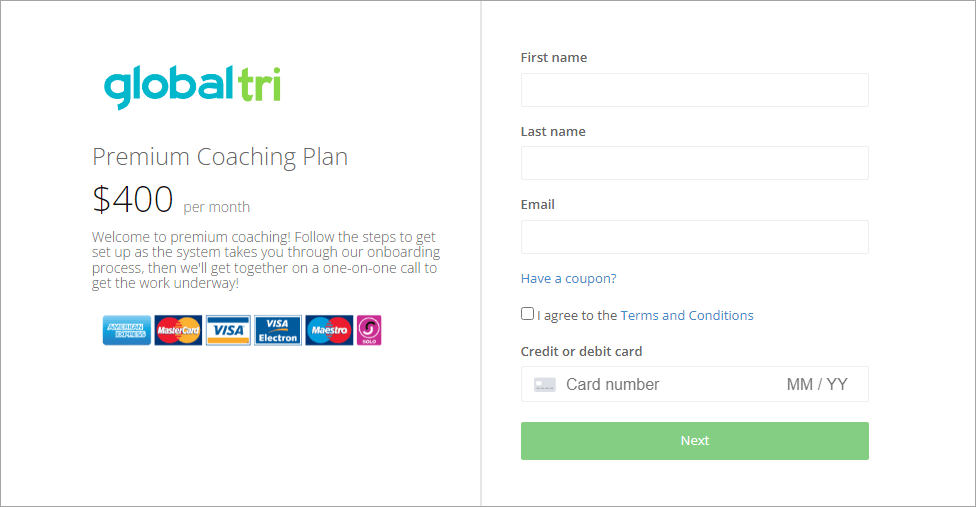 You will be able to keep track of the status of their payments and they will be able to update their payment details at any time via their account if they lose their card or get a new one.
You can learn more about the flexibility and comprehensive configuration options over at the membership plans section of our knowledge base.
It's very easy to get started with a Training Tilt account
Take our Free "Authentic" Marketing Course for Coaches
Designed for endurance sport coaches. Marketing doesn't need to be pushy. The best marketing simply creates a win-win relationship between you and your customers. Take the simple 6 part course to learn more.